Newsletter
New Riviera 5400 SYPE | Cobalt 23 SC | Brabus Shadow 900 ST - 10/13/21
BoatTEST Newsletter October 13, 2021
Riviera 5400 Sport Yacht Platinum Edition
Long Warranty for a Quality Vessel
The Riviera 5400 Sport Yacht Platinum Edition's helm is finished in a matte black Alcantara suede upholstery and has two 17" (43.18 cm) Garmin displays that are part of the Volvo Penta Glass Dash. It also has a 7" (17.78 cm) Volvo Penta engine screen and CZone digital switching, plus Siren 3 Pro remote monitoring and control is available. Another place where Riviera sets itself apart is with the warranty. The Australian company provides a five-year extended warranty on all Volvo Products from the propeller nut to the Glass Dash and if Riviera installs a Garmin component at the factory, it's covered as well. More...
Cobalt 23 SC
Premium Bowrider w/Outboard Power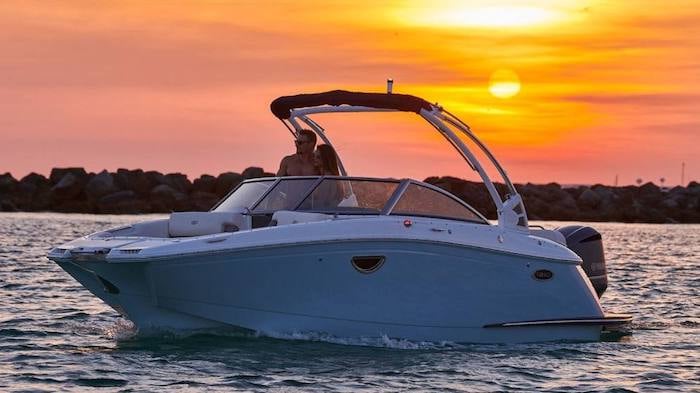 The 23 SC is one of Cobalt's new outboard-powered models and she's designed to provide accessibility with a beach boarding ladder at the bow as well as the company's swim step at the stern. A multi-use sunpad with an adjustable backrest enhances utility in the cockpit. She has a composite transom to handle the torque of the outboard and Kevlar reinforcement in the hull to add strength, puncture-resistance and to save weight. More...
2021 NMEA Awards:
Marine VHF: Icom M605
Icom's M605 has earned the National Marine Electronics Association (NMEA) Best VHF Radio Product Award for the fifth year in a row. Icom says the M605 is a system that lets a user choose how to set up the radio with up to three stations. A user can add a completed display as another station using two CommandMics and the bright display uses night mode for easy viewing in the dark. More...
Brabus Marine Shadow 900 ST
Understated Opulence w/Class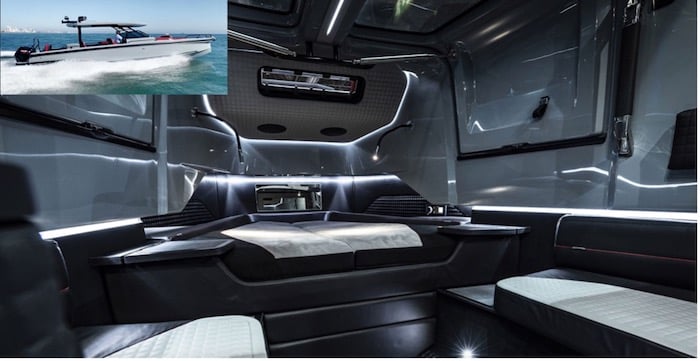 Brabus Marine takes an Axopar 38'5" (11.73 m) twin-stepped hull and packages it with twin Mercury Racing 450Rs and a plethora of luxury appointments to create the Shadow 900 ST. The cabin gets the lion's share of special treatment, primarily in materials including Brabus Fine Leather with hand-stitched red accents. The optional Infotainment Unit has a 42" (106.68 cm) 4K screen with Apple TV connectivity. The whole area is finished in black and gray, presenting a luxurious aura. More...
Sailfish 290 CC
An Important Difference
We have praised Sailfish Boats for their high freeboard and cockpit depth and the 290 CC is no exception. This makes them better sea boats. We measured 30" (76 cm) from the deck to the top of the caprail in the stern and 40" (97 cm) amidships (see above) and at the bow. These dimensions are typically 4" (10.16 cm) greater in both directions than most other center consoles. This makes for a dryer ride when running fast. It's also harder for green water to come aboard in nasty conditions. More...
2013 Pershing Yachts 64'
Saphia
The 2013 64' (19.51 m) Pershing, Saphia, is designed and built for hard-charging offshore. She's powered by twin MTU 10V 2000s and has a top speed approaching 40 knots with a cruise at 36. Below, she has three staterooms with en suites. The salon has large windows and a retractable sunroof, plus a hydraulically lowered aft window that helps connect the interior with the cockpit. More...
10 New Boats are Prizes
for Kids Fishing Contest
Founder and CEO Johnny Morris of Bass Pro Shops with Ke'Mari Cooper, his dad and the 7-lb. (3.18 kg) bass that inspired the contest.
Bass Pro Shop founder Johnny Morris is hoping the "Happy Fishin' Contest" will encourage families to put down their digital devices and pick up a fishing pole. Ten lucky youths 17 and under will win a bass boat, a trip to the U.S. Open National Bass Fishing Championships and other prizes by submitting a video on why they love to fish. Entry deadline for video submissions is October 17, 2021. More...
Climate Change Impacting Chesapeake Bay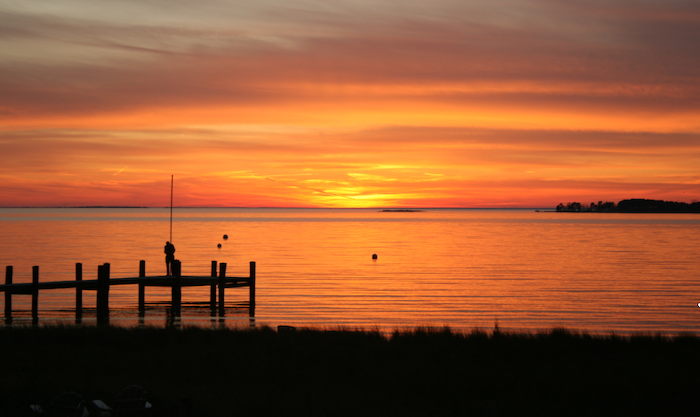 The Chesapeake Bay is home to more than 3,600 species of plants and animals. That includes 348 species of finfish and 173 species of shellfish. But it is surprisingly delicate. Overharvesting wiped out oysters and years later other factors nearly killed off the ubiquitous blue crab. Now another calamity is beginning. Find out how global warming is already changing this unique estuary. More...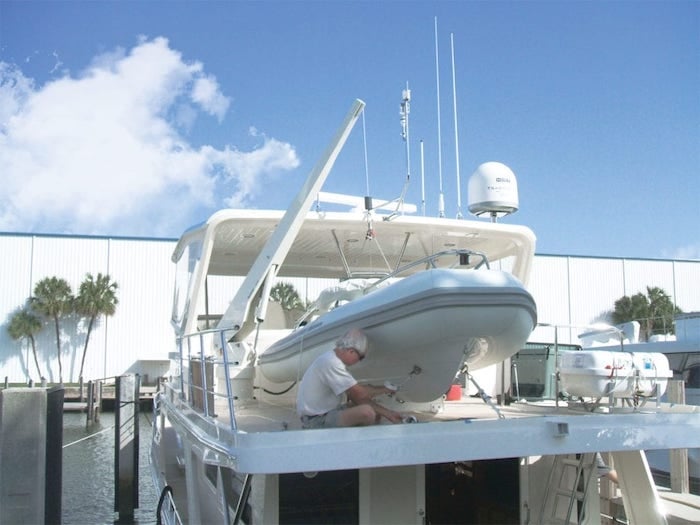 Davits work on boats without fanfare. Akin to heads and air conditioning, davits don't get a second thought until they malfunction. A davit with a hitch or one that won't run at all can ruin a weekend. Learn how to keep your davit working, with a stitch in time. More...
Crystal-Clear Waters Close to Home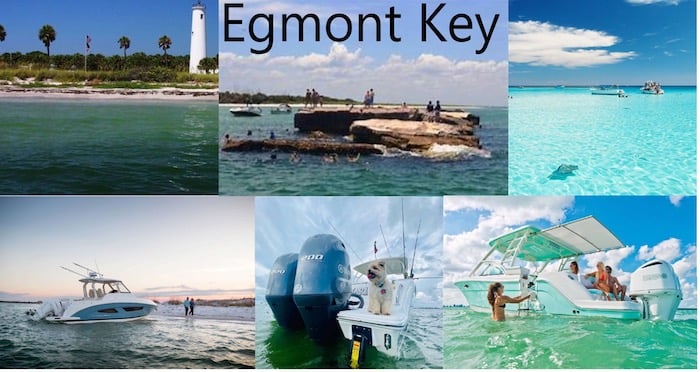 Nestled between Bradenton and St. Petersburg, in the mouth of Tampa Bay, you'll find a little piece of paradise called Egmont Key. Spend the day snorkeling, picnicking and exploring at one of the best boating destinations in the Tampa Bay area. Get your saltwater therapy in the crystal clear waters of Egmont Key on a Sovereign Boat Club boat! For details go to SovereignBoatClub.com or call 727-200-3474.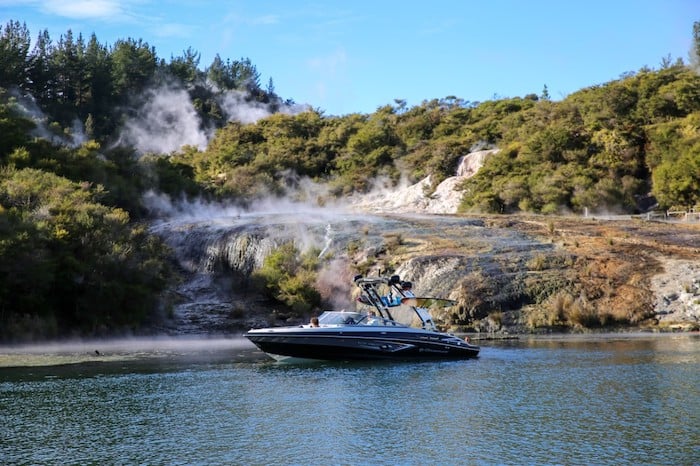 This Crownline 220SS Surf was in front of an active geothermal area on Lake Ohakuri on the Waikato River, North Island, New Zealand.
Share your boating photos with us! 
Thanks for following us!
We'll See You On The Water. 
BoatTEST.com, 8A Halidon Ave, Newport, RI 02840